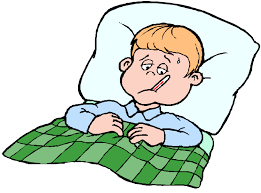 Why are you waiting to call in sick, block holder? Go to bed!
As a block holder, your book off only begins at the time you fail to report to work due to illness. Waiting up until 12:01 to book off does not save you any sick days, so go to bed sleepyhead! In fact, waiting until the next calendar day to book off may cause problems for the operation, as crew scheduling cannot call replacement crew between 23:00 and 08:00, or more than 2 ½ hours prior to departure, to assign the pairing. This means that reserves are getting late call outs or possibly drafting may occur plus you feel like garbage because you are sick and stayed up too late. Call to book off as soon as you realize you are not feeling well. Sick days are charged in 24 hours increments, so watch the clock when you are booking back on instead if you are even 1 minute over the 24 hour period, you will be charged another sick day. Sick days are only deducted for duty days and non guaranteed days off.
Please note that for reserve members, your book off starts at the time of your call.
Check out Article 9, Sick Leave, B5.04 & .05 Legal Rest Periods of your Collective Agreement for more info