Welcome to the CUPE Local 4092 Official Website, representing Air Canada Flight Attendants in Toronto!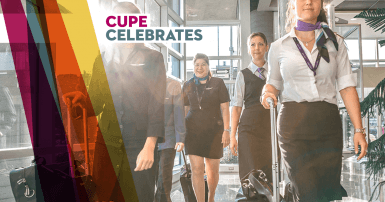 Contact your Union Directly
Just another friendly reminder that your YYZ union office is open and available to deal with your concerns 6 days a week. Monday to Friday our hours are 9-6 pm, Saturday and holidays 10-4. You can email us anytime at
office@local4092.ca
or call (905) 676-4293. Due to the high volume of investigatory meetings, there may be a delay in responding to your concern, so please always leave a message. We will call you back later that day.When you contact us directly, we will be able to assess the situation and advise you of your rights and the proper course of action in order to resolve your issue in the most expedient manner. Social media is not an efficient way to inform us of your concerns and public airing of your issues may cause more harm than good. Reach out to us first.
Elected as Vice Presidents:
Michelle Duhaney
Kathryn Hoffman
Cynthia Kryszak
Da Hyen (David) Lee
Alison MacDonald
Victoria Primavera
Lillian Speedie-Court
Jinny Wong
Acclaimed as Secretary Treasurer:
Laurent Roy
For information in regards to the ongoing issues with the 737 MAX, click
here
.
Being asked to wear your brevet? Click
here
for the arbitration stating that
you have the choice on whether or not to wear brevets.
Have an OBSM on board?
The consent award
tells you what they can and cannot do on board and
this bulletin
outlines the ongoing issues CUPE has with the program. Check out the November 2016 Move Me News for a list of OBSMs and the January 3 2017 editions for a list of CNX managers, or come by the office for a list of names. Click
here
for a recent message about the OBSM FA program.
Sign up
for our newsletters and stay up to date! Click
here
for our online newsletter archive page or go to the
"News
" tab for PDF versions.
We have recently renewed our Corporate membership agreement with GoodLife Fitness.
On October 25, 2018, the annual membership rate will increase to $429.
Please click
HERE
to read the information package provided by GoodLife.
For information on the
Union Pearson Express Employee program
, click
here
.
Upcoming Events
Monthly Block Bid Information
For the block month of April, as pairings will be revised, we recommended (for now) to bid by destination, layover, aircraft type, etc. vs pairing number. Please see a bidding instructor if you have any questions.
The company has sent out a bulletin stating: The revised pairings will be published no later than Monday, March 18, 2019, at 08:00 EDT, and will be available to bid on immediately.
The pairing revisions are published in Aeronet under: In Flight Services >Crew Scheduling and Planning >Block Bid Packages
REMINDER THE NEW UI WILL RUN ALONG WITH THE CURRENT BIDDING SYSTEM There is no specific turn off date yet but when that happens there will be a two months warning.
you can watch the presentation of the NEW UI on YouTube:
https://youtu.be/q-wMLOnN4Ss
Bids open Mar 14th at 0800
Bids close Mar 20th at 0800
Awards published Mar 22nd at 2300
Contesting opens Mar 22nd at 2300
Contesting closes Mar 25th at 2300
Contesting published Mar 26th at 2300
Netline published Mar 28th
Bid assistance hours:
Mar 14th 0900 to 1600
Mar 15th 0900 to 1600
Mar 16th 1100 to 1800
Mar 17th 1100 to 1800
Mar 18th 1030 to 1730
Mar 19th 1130 to 1830
On Board Crew Rest
You are entitled to take your onboard crew rest, even if this means altering the service
. See our bulletins below.
Crew Rest Committee Long Range Duty day Limits and Crew Rest
Local Bulletin
Component Bulletin
Crew Rest Guide & Sleepwear Provisions
Crew Bunks
December Crew Rest Guide
Please report to the Company and the union if you are unable to complete service and/ or schedule sufficient crew rest on long range flights. Please give us a schedule of how long the service took and and any further details on flight, such as equipment failures that prolonged service, turblence, passenger issues, medicals, crew complement, etc.
Under the terms of the Collective Agreement you are entitled to an additional 30 minutes crew rest on board LOU18 & 22 flights only. (See LOU 60 for detailed contract language)
B14
Scheduled flight time 11:30 or greater are entitled to 2 hours crew rest
LOU 18 flights:
duty periods under 14h59 are entitled to a minimum of 2 ½ hrs on board crew rest
duty periods from 15 hrs to 16h15 are entitled to 4 hrs.
LOU 22A flights:
duty periods from 16h16 -17h10 are entitled to 4 hrs on board crew rest
duty periods from 17h11 - 18h00 are entitled to 4 ½ hrs.
LOU 22B flights:
scheduled duty period between 18:01-18:45 are entitled to 5 hours on board crew rest
scheduled duty period between 18:46- to 19:20 are entitiled to 5 1/2 hours on board crew rest
Meal breaks are to be taken separately from the on board crew rest.